Collective Dharma with Clare Dubois, Erin Dixon and Uma Dinsmore-Tuli
Join us for this powerful discussion hosted by Amisha Ghadiali (all that we are founder) with Clare Dubois, Erin Dixon and Uma Dinsmore-Tuli. We will be discussing the theme of Collective Dharma.
How do we deepen our understanding of dharma from an individual soul focus to a collective inquiry that honors and celebrates our diversity and interconnectedness and calls for collective liberation and prosperity?
How can we dismantle our privilege and notions of white saviorism whilst still showing up for issues such as climate breakdown which have less impact where there is more wealth.
Speakers for this session
Clare Dubois is the founder of TreeSisters.org, a global charity spanning multiple countries that has collectively funded the planting of over 15 million trees. TreeSisters is a social change movement and a tropical reforestation organisation working towards normalising cultural reciprocity with nature, empowering women and achieving consciousness shift. The aim of both Clare and TreeSisters is to make it as normal to give back to nature as it currently is to take nature for granted while supporting humanity in its transition from a consumer species to a restorer species.
Growing with the crystal-clear waters of Benessai Ochininissing, Skeleton Lake, Erin walks with vision and all of life in mind, sharing her Otipemisiwak-Métis heritage and love for collective intelligence, Indigenous science and living systems transformation. Erin works at Reconciliation Canada as the Director of Indigenous Leadership and Knowledge, is associate professor with Royal Roads University, and works with the Gojijing Truth and Reconciliation Roundtable Gatherings. A weaver and natural innovator, she carries an MA in Global Leadership from Royal Roads University, and post-grad certification in Eco- Psychology. Erin is a water protector and sits with the Bawaajiewin Dream Drum Society.
Uma met yoga in 1969, at the age of four, and fell in love. She's been practicing ever since, and teaching yoga since 1994. A yoga therapist with special expertise in yoga therapy for women's health, Uma is a mother of three, and has written four books on yoga for women, including the massive Yoni Shakti and two books on Yoga Nidra, including Nidra Shakti, An Illustrated Encyclopaedia of Yoga Nidra. Uma trains specialist teachers in Total Yoga Nidra and Yoni Shakti Well Woman Yoga Therapy for menstrual and menopausal health, pregnancy, birth, and postnatal recovery. Uma is co-founder of the Yoga Nidra Network and has developed Total Yoga Nidra, Wild Nidra and Nidra Shakti: radical creative and intuitive approaches to sharing yoga nidra.
with
Amisha Ghadiali is the founder of 'all that we are' fka The Future Is Beautiful – which she started in 2010. She is a leadership mentor, author and experienced facilitator with a gift of bringing people into connection with themselves, each other and the earth. She has hosted many retreats. workshops and rituals around the world. She creates brave, tender and inclusive spaces for our hearts unfolding, healing and embrace of our wildness. Her book "Intuition" published by DK Books is out now. She hosts the 'all that we are' podcast.
Timing & Pricing
Monday 23rd May
2.30-4.30pm IST, 7.30-9.30pm BST, 8.30-10.30pm CEST, 2.30-4.30 EDT, 11.30-1.30pm PDT
Held on zoom.
£40 to join this session, £25 for 'all that we are' members (use the code we have sent you at checkout)
+ Buy your ticket for this speaker session 
From Me to We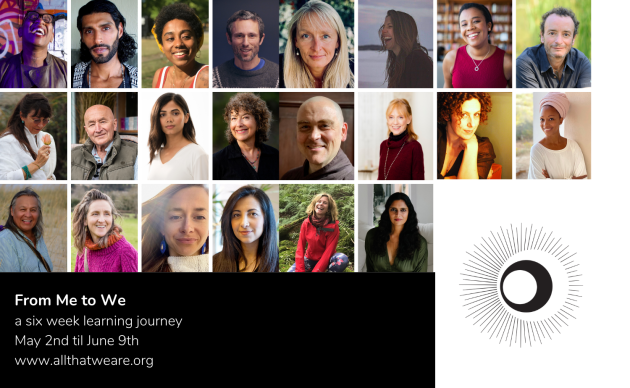 This is the fourth session in a six week learning journey, 'From Me to We', curated and hosted by 'all that we are'. Each week we will have a panel of three speakers who will discuss these timely themes. You are welcome to join us for the whole six weeks, including embodiment sessions and discussion salons, or for individual events.
+ More information and register for the whole learning journey
(sliding scale pricing offered starting at £150 and full scholarships available)
About From Me to We
As the pandemic has changed us in ways we are just comprehending, several living questions are: How can we live our values in a more meaningful way? How do we move from the paradigm of individual spirituality to something that feels more aligned with the story of interbeing? How do we have a relationship with the sacred that allows us to show up in an engaged way – recognising that we are all in the same storm, but not in the same boat.
We are living in a crisis of spirit and separation – from our true nature, each other and this beautiful planet. Navigating a spiritual path within late stage capitalism is challenging for all of us. As many of us have moved away from organised religion into a hybrid of different cultures and practices, whilst wellbeing has become an industry – we feel the damage that New Age spirituality has caused. It has distorted us from an engaged and embodied approach to collective healing and liberation – in many cases fostering greater separation, individualism and escapism – and doing little to dismantle and transform the systems of power and separation that drive so much suffering in our world.
Many of us feel we have become a product of this time and these systems, with a focus on individual success and external comparison – fuelling these very crises rather than seeking to heal their shared roots. Despite good intentions, we find ourselves navigating the complexities of these times rather clumsily and being part of the problem. We now also exist within 'cancel culture', where questioning the dominant narrative can lead to being outcast and deplatformed, it's a challenging time we live in.
If you are feeling called to deepen your understanding of this time, unravel some outdated patterns and explore how you can grow and serve in your community, 'all that we are' invites you to join us on this living inquiry into how we move from Me to We.
This is a collective journey to transmute and heal from the hyper-individualised and capitalist shadows that too often fuel isolation, inadequacy and polarity. Our deepest intention is to create space to discover and embody a spirituality of belonging, wholeness, and action – to live a We, that is both more inclusive and expansive in these divided times and in deeper relation with the more-than-human world.
Our starting point is not with all the answers. We don't offer you experts or gurus. We have good questions, and a willingness to sit with the uncertainty this great turning asks of us. We will bow at the altar of emergence and hold space for what longs to be birthed through us as we remember ALL THAT WE ARE.
We have gathered a collective of curious souls for this inquiry, in both the facilitators and each of you taking part. Together, we can explore what it means to be human at this time and how to show up more powerfully as we go on this six week learning journey.
From Me to We is the first experience in our new series 'Dismantling New Age Spirituality', which comes as we let go of 'The Future Is Beautiful' to embrace all that we are, all that we are becoming and all that is possible.
"Much as I enjoy popular New Age commentary on love, I am often struck by the dangerous narcissism fostered by spiritual rhetoric that pays so much attention to individual self-improvement and so little to the practice of love within the context of community. Packaged as a commodity, spirituality becomes no different from an exercise program. While it may leave the consumer feeling better about his or her life, its power to enhance our communion with ourselves and others in a sustained way is inhibited" Bell Hooks (All About Love: New Visions)